Jungle Keva Tulum is located on the south side of Tulum, MX in the La Veleta neighborhood, which is a rapidly growing, bustling community in close proximity to hipster hot spots, taquerias, Italian bakeries, coffee shops & gourmet markets. Every modern convenience is less than 1 KM away and the beach is 7 KM while the center of Tulum is just 2.5 KM.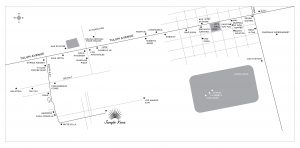 Our Address:
Calle 3 poniente, Region 15, Manzana 13 Lt 07
Col. La Veleta,
Entre Fundadores de Tulum y 16 Sur.
Tulum , Q-ROO 77780
Mexico
English Directions
From the Cancun International airport you will take Carretera 307 which is the main highway from Cancun through Playa del Carmen and all the way to Tulum.
Travel through Tulum all the way to the end.
At the South end of town you will see Camello on the left at Kukukan.
Travel .8 km more and just after the last Gas Station on the right you will look to the left and see the Gypsea Market.
Turn left at the Gypsea Market which is Ave 5 Sur.
Travel 1 km total. There are no signs, but you will see the Gypsea Market and the Italdo Italian Market on your right when you turn left.
Travel down and you will see a sign for the Tiki Tiki Hotel Tulum. That is Calle 7 SUR. Drive through the zig zag.
Drive past the Harmony Tulum sign. At the second Street on the left you will turn left.
We are two streets down on Calle 3 Poniente. There are no street signs.
If you get lost go back to the Gypsea Market send us a message and we will come find you and help you drive to us.
Direcciones en español
Pasas el pueblo de Tulum asia el Sur hasta llegar a camello a mano esquierda en Kukukan.
Viajas .8 km mas y justo pasando la ultima gasolinera a tu mano derecha vas a ver la tienda GYSEA MARKET en la esquina de TU MANO ESQUIERDA.
Doblas a tu mano ESQUIERDA AVE 5 SUR viajas 1km total. No tiene symbolos la calle pero vas a ver las tiendas Gypsea market, Italdo Italian Market a tu derecha una ves que ya doblaste a la esquierda.
Manejas por la Ave 5 Sur hasta ver TIKI TIKI Hotel Tulum esa es calle 7 Sur no dobles para ningun lado, pasas un zig zag y pasas dos calles a la derecha y una a la esquierda.A la segunda calle doblas a la esquierda.
Estamos a dos calles en calle 3 poniente. No tenemos señales en las calles.
Si se pierde, regrese a Gypsea Market, envíenos un mensaje y lo encontraremos para ayudarlo a conducir.
driving to Jungle Keva Tulum
We recommend one of these three options for reaching us from Cancun.
Renting a car is a great way to explore all our region has to offer and we have complimentary on-site parking for our guests.
Take the first class ADO bus.
Arrange a private door to door van service. The private van will cost approximately $125 each way (1-4 persons) and we are happy to assist with reserving this service.
Get in touch with us if you would like to more information about Jungle Keva Tulum Villa/Lodges and Venue.
If you are interested in hosting an amazing private event experience at our jungle villa or looking for an experience in one of our Lodges get in touch with us as we would be honored to welcome you!